Specialty Chemicals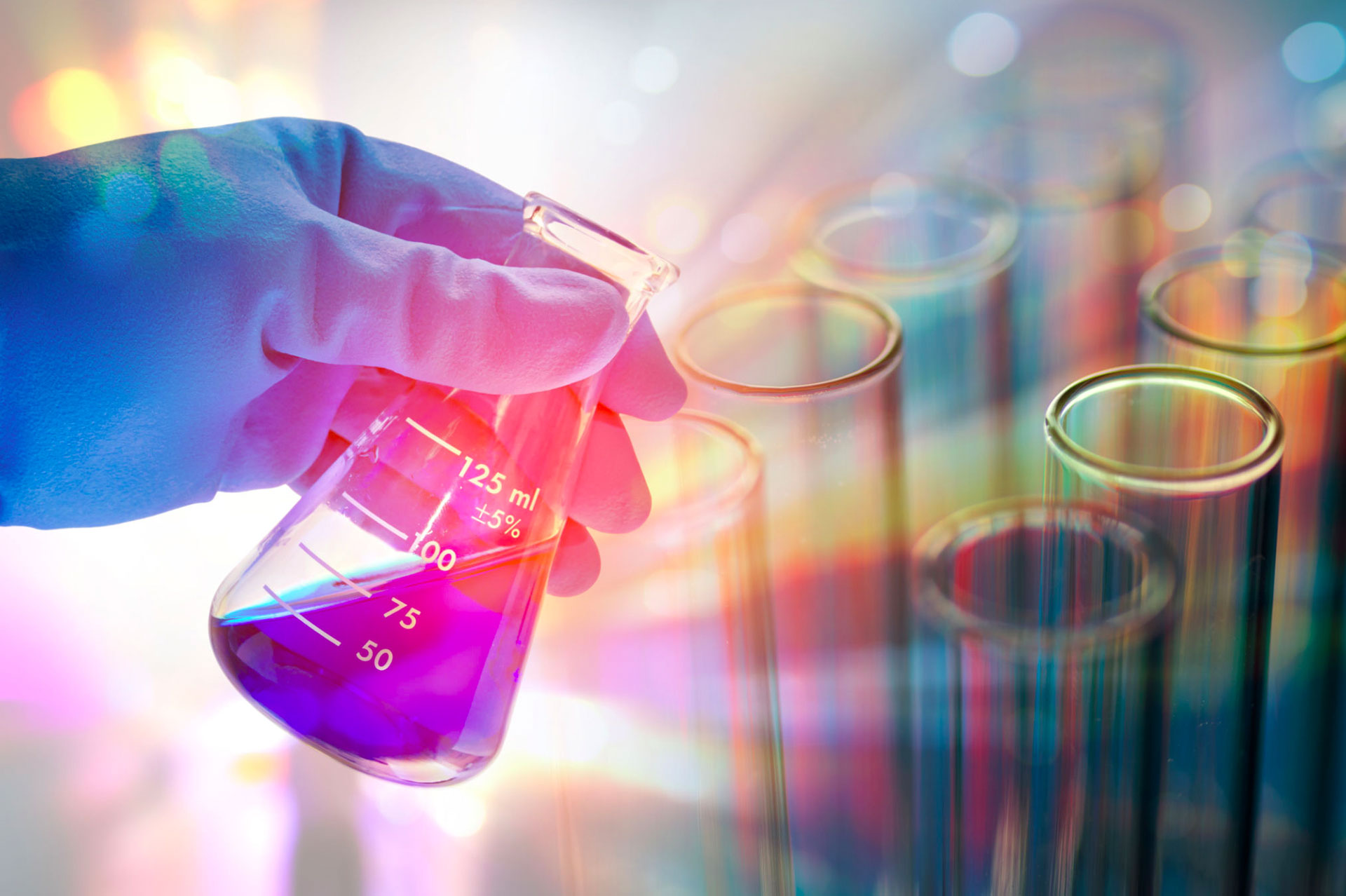 Eastar is global supplier of specialty chemicals, intermediates and additives with sourcing offices in China and India.  We are engaged in global distribution and warehousing for our valued customers.  Our experienced and responsive teams of logistics, quality control, quality assurance are here to provide additional value to all customers.
Overview of the Speciality Chemicals
Specialty chemicals are produced by a complex, interlinked industry. In the strictest sense, specialty chemicals are products sold on the basis of their performance & functionality, as well as their composition. They can be single-chemical entities or formulations whose composition sharply influences the performance and processing of the customer's product.
The following pie chart shows the specialty chemicals market share held by each major region in 2018, on a value basis: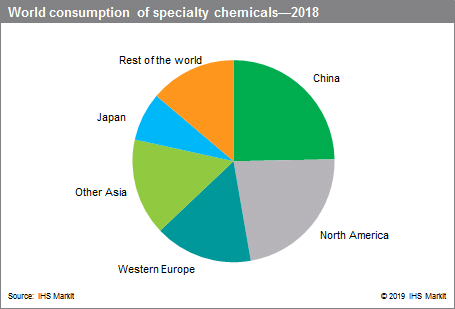 In 2018, the world's 5 largest specialty chemicals segments—specialty polymers, industrial and institutional cleaners, electronic chemicals, surfactants, and flavors and fragrances—had a market share of 37%; the 10 largest segments accounted for 63% of total annual specialty chemicals sales. Each specialty chemicals business segment comprises several subsegments, each with individualized product, market, and competitive profiles.
China was the largest consumer of the following specialty chemicals, accounting for 30–50% of global consumption in 2018: antioxidants, construction, feed additives, printed circuit board and semiconductor packaging, plastics additives, paper chemicals, rubber-processing chemicals, specialty coatings, specialty polymers, textile chemicals, and water management chemicals. The country accounted for 50% of the dollar value of the global textile chemicals market in 2018.
North America was the leading consumer of biocides, catalysts, corrosion inhibitors, cosmetic chemicals, food additives, industrial and institutional cleaners, lubricating oil additives, oil field chemicals, printing inks, surfactants, and synthetic lubricants. Western Europe was the leading consumer of nutraceuticals and flavors and fragrances. Japan was the largest consumer of imaging chemicals, while Other Asia had the highest consumption value for chemicals used in semiconductor fabrication.
In addition, emerging markets have higher growth rates than North America, Western Europe, and Japan because they are calculated from a low base, since their per capita consumption of specialty chemicals is still very low compared with that of developed regions.
In the past, specialty chemical companies sold their products on value. Their products represented only a small portion of the cost structure of their customers' products. Advances in supply-chain management, strategic sourcing, and eCommerce have increased transparency and customer awareness. As a result, the specialty chemicals industry is becoming more commodity-like in some areas as companies sell certain products on price rather than on performance. The specialty chemicals industry is now trying to improve its margins by implementing price increases to compensate for higher R&D, energy, and raw material costs.